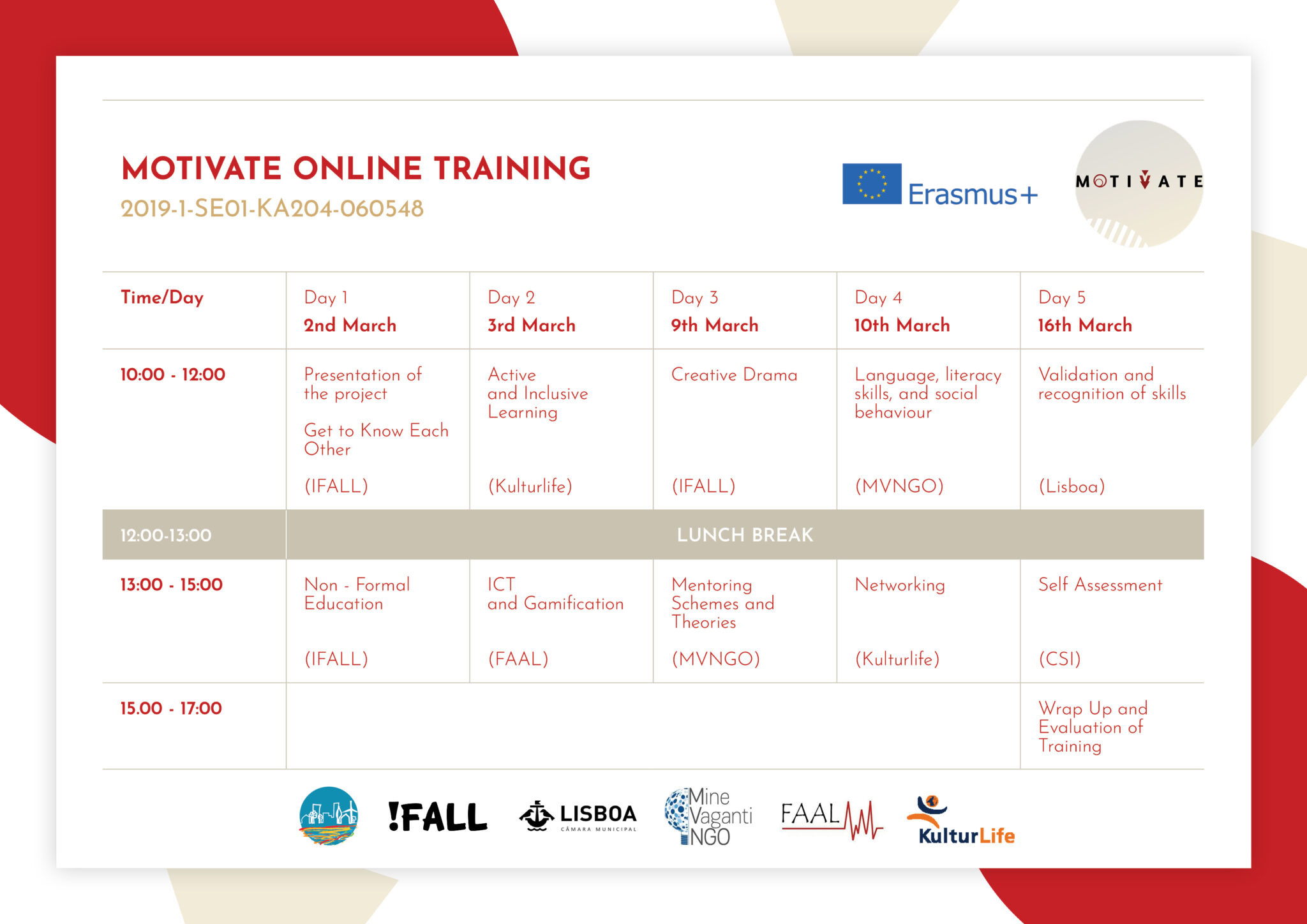 31 Mar

SUMMARY OF MOTIVATE TRAINING

Motivate – an Erasmus+ program aimed to increase social workers and educators' competences in diverse methodologies to work and assist refugees, asylum-seekers, and immigrants. The program had six (6) European partners from Sweden, Greece, Cyprus, Turkey, Portugal, and Germany. The question asked in this training – " What is Motivate? ´´ answers building motivation, digital skills, Adult migrants, language skills, volunteers, and educators. It consists of variety of courses and lessons such as creative drama, gamification, mentoring and scheming and so. Motivate is part of the strategic partnership on adult education which is a two-year project with three (3) project outputs, one (1) international training course (connected to outputs) and six (6) multiplier events. The partnership seeks to promote migrants' rights to access services needed to re-engage in training to reduce the chance of social exclusion..

The motivate training lasted for five days full of informative, entertaining, educative, and insightful modules led by knowledgeable instructors to enable participants equip the necessary intellectual skills. Each day had two different modules with breaks in between and exciting activities.

The kick-off day of the training was on 2nd March 2021 led by IFAL. On this day, all participants started by introducing themselves by stating our names, meaning of our names, country of origin and the interesting facts about it. After the introduction, all participants played a game on https://www.morethanonestory.org/en/. Once the games were completed the trainer asked all participants to annotate their fears, expectations and offers of the training.

Immediately after that, all participants engaged in another game ´´ Camera Covering Game´´ where all participants covered/closed their cameras and if the statement/sentence relates, you open the camera. To make the training entertaining on the first day, the trainer introduced a new game after lunch called Energizer. In this activity, participants connected dots to make a meaning. Towards the end of the training, all participants reflected on what formal, informal, and non-learning is and gave some examples.
DAY 2 – Active and Inclusive learning Environment (March 3rd,2021)
The second day of the training was divided into modules led by two different partners (Kulturlife & FAAL). The first module of the training was conducted by Kulturlife with the following points of discussion: ´What is inclusive learning? ´, ´Why is learning environment important? ´ and ´How to achieve an active and inclusive learning environment? ´. After all the discussion, the trainer asked participants to watch a YouTube video on fairness and discuss it among smaller groups, reflect and make final feedback.
The second module was led by FAAL on the topic Information Communication Technology with a specific focus on Gamification. The training started by giving full background information on ICT and gamification including definition, objectives, and outcomes. It was followed by a game on Kahoot. Each participant had the opportunity to evaluate the training and give their feedback.
DAY 3 – Creative Drama (March 9th ,2021)
This session had two modules. Day 3 of the motivate training covered the topic on creative drama which was led by IFALL. It started with a warmup activity. Participants were divided into small group discussion on similarities and differences on creative drama & theatre. The training continued by asking participants to search for items mentioned by the trainer, played a game on story dice. The story dice is an interesting game where one uses images to form a story. After the formation of different stories, each participant gave feedback on the whole topic.
The second module of the day started after the lunch break and was led by MVNGO. The topic of the module was Mentoring Schemes and Theories. The trainer showed some capabilities every mentor must have to educate their mentees. Some of these capabilities are: Active listening, trust building and cultural diversity. These capabilities were discussed in-depth with matching examples. The training ended with an evaluation on menti.com.
DAY 4- Language, Literacy and Social behaviour (March 10th ,2021)
MVNGO led this training on language, social behaviour and literacy skills needed by migrants, asylum seekers and immigrants to penetrate the labour market. The trainer started by playing a game on menti.com to allow participants to state all barriers, obstacles, and solutions for equipping one´s literacy skills.
 Afterwards, the word game was played. In this game, every individual is entitled to find words with the letters available. These letters are the first and last alphabets of every participant´s name. During this session, the trainer explained everything associated to social behaviour such as definition, development, and objectives. Each group were given 20mins to discuss in teams the scenarios and then present those scenarios to other teams. This session was followed by a quick evaluation on menti.com.
The second half of the training focused on Networking where the trainer discussed what networking was, why networking is important and how to network.
The above image answered the question ´Do you network? ´ Having discussed all questions, it was time to play a game on game.educulture.se/module7.html. to spice up the training. Another game was played called the human bingo. This game is about finding someone who has a pet, lives in a small town, works full time, eat spicy foods and so on. Participants were taught about the world café. The world café showed methods for creating a living network of collaborative dialogue. Reflection and feedback took place after the presentation.
DAY 5 – Validation and Recognition of skills & Self - Assessment (March 16th, 2021)
This was the last day of the motivate training and lasted longer than the usual time. The training was in two session with a wrap up and evaluation at the end of it. The trainer of the first session started the training with some warmup activities led by partners from Lisbon. During this time, the trainer discussed the relevance of skills recognition and validation. Here, participants were asked various questions such as recognizing our own life experiences, what it means to validate and recognize our skills and why our experiences are valuable. Each participant sketched their own river of life and how they have built their resilience. All participants utilized the learning platform on educulture.se to find puzzle words in connection to validation and recognition. Before the first module ended everyone answered all survey questions and gave feedback.
The last module topic was self-assessment and led by Centre for Social Innovation (CSI). In this training, the instructor introduced the concept of Aerostato where participants build on the metaphor of an air balloon. The balloon answers questions such as What elevates your learning? What stops your learning? and What you already have in your basket (skills, attitudes, and knowledge)? This exercise enhances awareness and reflection of personal learning process of the learner. The self-assessment training aims at offering professional knowledge on what self-assessment is and its importance in assessing adult learner´s skills.
Also, the instructor presented methods and explained how this method specifically increases the key skills of both migrants and professionals. After all the discussion, each individual participated in the personal swot analysis to encourage a deeper self-understanding.
Image on the Aerostato
The intellectual output two in the second module focused on the circle of competences. Here we reflect on personal development and the learning process of acquiring concrete competences. All participants drew a circle to and divided it into 8 smaller parts. These parts focused on all competences (skills, knowledge, and attitudes) you find important for one´s own development. At the end of everyone evaluated the whole training process and gave constructive feedback.