12 Oct

week 44

Hej,

New post in the blog to tell you a little bit of me, I put that title because we realised that swedish people count the weeks, something no common in Spain but now I´m here jaja. These weeks nothing exciting happened in our life but in two weeks we have to go to Stockholm. We really are looking forward to make this trip and know more EVS volunteers who are in the same situation as us. We hope to enjoy our time there and visit all the places and all the parts of the city in such a short time. We will make a post about it so I´m going to take a lot of pictures ;).

Last week we spend our free time knowing better Örkelljunga. This time we take our bikes, for Malika it was the second time jaja, and we had "fika" in a friend´s Swedish house. To arrive there we have to cross the forest, the view was amazing, I have to come back to take more pictures because it really was worth the effort. In the way back to home we take the road which is around the lake and we take some pictures.
I have to say that one of the best things of the EVS is to have a partner in this challenge.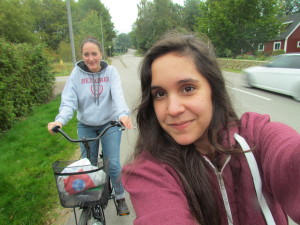 In my case is Malika and I think that I was so lucky. We are so similar and sharing house with her is so easy, as well as it is true that I know she spends funny moments with me, sometimes, maybe a lot of times, she laughs with my face of fear or with mi spanish expressions. It is good to have someone who understand you and share your sames thoughts :). I´m aware of, usually, I speak a lot, I think that one day she is going to get crazy and beg me to shut up, but … I think she is getting used to my personality so quick.
that is all friends….
Have a nice week!!
Laura 🙂