26 Sep

IFALL team is getting bigger!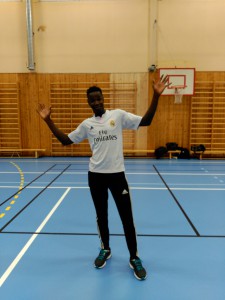 Hi!
This week we have been pleased to welcome Alhagie in IFALL team. Alhagie is coming from Gambia and has been living in Sweden for more than a year and a half. In addition to his mother tongue (4 different West African languages!), he speaks Swedish, English and Spanish.
Alhagie will work on our projects in Örkelljunga and Klippan. Being very dynamic and social, he will be in charge of networking at local level. If you don´t know him yet, you have a lot of chances to meet him around a sporthall or football field. If you see him, just go to greet him, you won´t regret it!
New activities have started: "Svenska koden" (check timetable and location of all IFALL activities here) and "IFALL kvinnor och tjejer". Do not hesitate to attend "Svenska koden" activities if you want to improve your Swedish. "IFALL kvinnor och tjejer" is a place for women and girls to meet and do some activities (cooking, sports…) together in a relaxed and friendly athmosphere. Mothers can also be accompanied by their children. Spread the word about this new activity!
In Klippan, volleyball (for men and women) is from now on taking place on Fridays from 6pm-8pm at Antilopens sport centre.
We hope to see you next week!