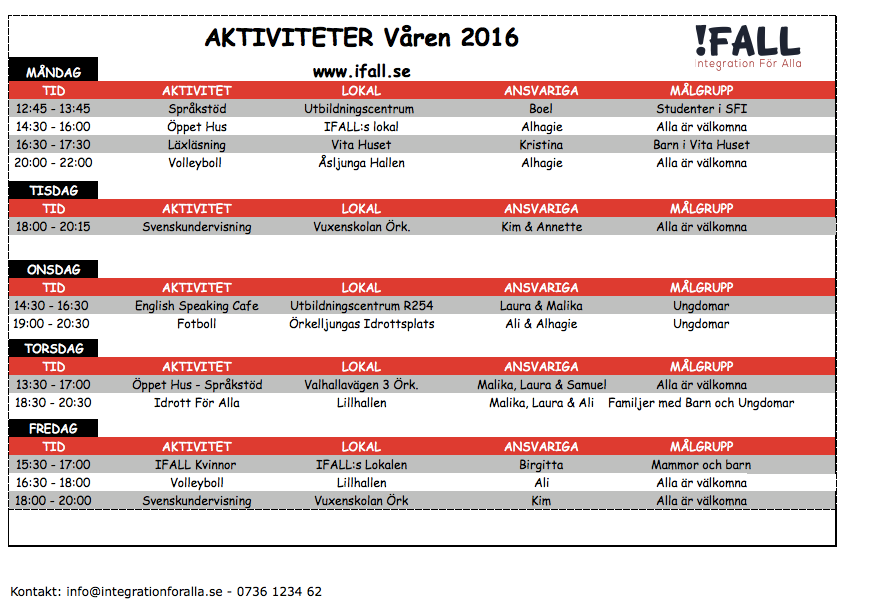 16 Jan

New activities!

Hi everybody,

The new timetable of IFALL activities is available! Don't forget to check it regurlarly, because if some previous activities will still be taking place at the same time and same place, new activities will be developed this semester.

So what's new? Laura is creating a sport activity for (girls) teenagers and young women. For more info, come at the info meeting on Tuesday 19 January at 14:15 at IFALL's local. Don't hesitate to contact her if you have any questions! Soon she will also inform you about another project about radio. Malika will organise monthly social evenings. The program will be available soon.

Upcoming activities will also include circus and project writing.

IFALL will also be busy this semester hosting several international projects in Örkelljunga (Youth exchanges and seminars) and travelling abroad to participate to different projects in Spain, France, Ukraine… Four new European volunteers will also arrive in Spring and stay with us for 6 months.

Remember that our activities are free-of-charge 🙂

See you soon!