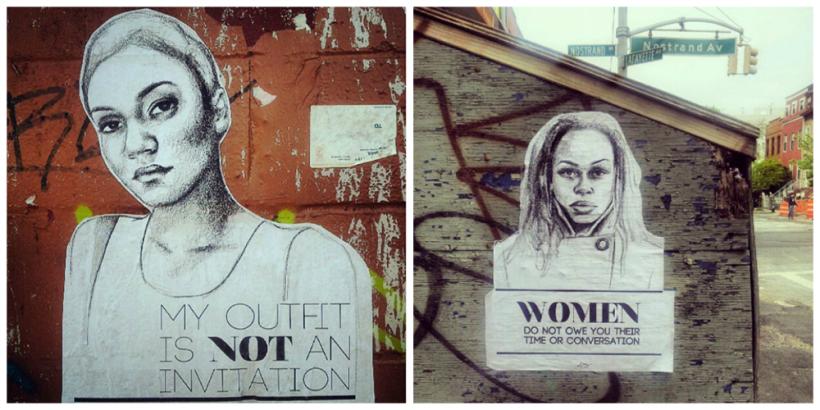 13 Nov

Sexual Harassment

"I was chatting to my colleague at work when I felt someone grab my butt. As I turned, I saw it was one of the guys I work with. Initially, I was shocked and so I laughed it off, as did he, but that wasn't okay and shouldn't have happened. I just didn't know how to react in the moment."

"In a business meeting I had last week the woman kept flirting with me and making unwanted advances. I obviously declined but she kept on being inappropriate. It was really awkward and uncomfortable."

"Last night I went out and the club was super busy. I was standing at the bar talking to my friend when a random guy pinched my breast as he walked past. I tried to grab his wrist and say something but he managed to shake my grip and disappear in the crowd."

"You know what happened to me the other day? I was in the pub and this woman slapped my butt as she walked past."

All of the scenarios above are actual accounts of what some of my friends have experienced. As you might have guessed, this blog is about sexual harassment. Many well-known figures have in recent years faced accusations of sexual harassment–from Kevin Spacey and Harvey Weinstein to politicians from Westminster (UK). But what do we mean when we talk about sexual harassment? And how big of a problem is it?

Sexual harassment may be defined as harassment in a workplace, or other professional or social situation, involving the making of unwanted sexual advances or obscene remarks. Sexual harassment can be divided into 3 categories; verbal, non-verbal and physical. Examples include but are not limited to:

•Making conditions of employment dependent on sexual favours.

•Physical acts of sexual assault.

•Requests for sexual favours.

•Verbal harassment of a sexual nature.

•Unwanted touching or physical contact.

•Unwelcome sexual advances.

Statistics 

Research in to the prevalence of sexual violence revealed some striking statistics.

According to reports published in 2012, 2015 and 2016 by the UN and Action Aid:
1 in 3 women worldwide have experienced sexual or physical violence at some point in their lives.
40%-50% of women in member states of the European Union experience unwanted sexual advances, physical contact or other forms of sexual harassment at work.
Across Asia, studies in Japan, Malaysia, the Philippines and South Korea show that 30% – 40% of women suffer workplace sexual harassment.
In Nairobi, 20% of women have been sexually harassed at work or school.
In the United States, 83% of girls aged 12 -16 experienced some form of sexual harassment in public schools.
Every 15 seconds a woman is assaulted in a public space on Sao Paolo.
In New Delhi 92% of women have experienced violence in public.
Polls conducted across Brazil, India, Thailand and the UK show that 2 out of 5 women have experienced harassment before the age of 18.
Evidently, sexual harassment is a major issue and as a woman I feel that this behaviour is often excused, not taken seriously and to some extent expected. I asked a few of my female friends how often they experienced sexual harassment and most have told me that they will face some form of harassment on a weekly basis. Sadly, this response did not surprise me. In fact I am certain that the majority of women worldwide face unwanted advances and comments regularly. The problem is that although this behaviour is not condoned by most people, we still expect and accept it. Acceptance need not imply agreement, but rather reveal the normalisation of this behaviour.
A close friend of mine living in London, puts it well when she says that "she feels she has to choose her battles." This resonates with me as a woman and a person. Confronting men who hurl verbal abuse at you and mock you when you stand up for yourself, is not easy. We must face the fact that sometimes it may simply be unsafe to respond to harassment. Though a difficult and time-consuming task, choosing to fight the battles we are made to confront is the first step to making harassment unacceptable in our everyday lives.
At the basis of harassment may ultimately be a cultural devaluation of women, which feminist studies since the 70s have shown to appear cross-culturally as well. To understand the position of women as the most frequent victims of the seemingly innocent forms of harassment I have touched upon, we must first understand the historical subordination of women around the world. This topic will be addressed in my next blog.
References
Action Aid (2016) "Nearly three in four women were harassed in past month" [Online] https://www.actionaid.org.uk/latest-news/three-in-four-women-uk-world-harassed-in-last-month
Action Aid (2016) "Ending street harassment: the Safe Cities for Women campaign" [Online] https://www.actionaid.org.uk/campaign/campaigning-works/ending-street-harassment-the-safe-cities-for-women-campaign
David Wong (2016) "7 seasons So Many Guys Don't Understand Sexual Consent" [Online] http://www.cracked.com/blog/how-men-are-trained-to-think-sexual-assault-no-big-deal/
Equal Employment Opportunity Commission "What is Sexual Harassment?" [Online] http://www.un.org/womenwatch/osagi/pdf/whatissh.pdf
International Labour Office, Geneva (2016) "Meeting of Experts on Violence against Women and Men in the World of Work" [Online] http://www.ilo.org/wcmsp5/groups/public/—dgreports/—gender/documents/meetingdocument/wcms_522932.pdf
United Nations (2012) "Fast facts: statistics in violence against women and girls" [Online] http://www.endvawnow.org/en/articles/299-fast-facts-statistics-on-violence-against-women-and-girls-.html
United Nations (2015) "Violence against women" [Online] https://unstats.un.org/unsd/gender/chapter6/chapter6.html
World Health Organisation (2012) "Understanding and addressing violence against women" [Online] http://apps.who.int/iris/bitstream/10665/77434/1/WHO_RHR_12.37_eng.pdf
World Health Organisation "Chapter six, Sexual Violence" [Online] http://www.who.int/violence_injury_prevention/violence/global_campaign/en/chap6.pdf