Hej!
Är du intresserad av fotografering?
Tror du det finns mera du kan lära dig?
Kom då med i vår sommar aktivitet!
I sommar erbjuder IFALL en "workshop" om foto – öppen för alla.
Följande dagar: den 1:e, 8:e, 15:e, 22:e och 29:e Juli har vi "workshop" på Örkelljunga Kulturhus och Bibliotek.
Du kan delta i morgon klass (10.30-12.30) eller eftermiddags klass (14.00-16.00).
Allt material finns att låna men du får gärna ta med dina egna saker tex Kamera om du vill delta.
Skicka ett e-mail till ifall.evs@gmail.com där du anger, namn, ålder och vilken klass du vill vara i (för- eller eftermiddag).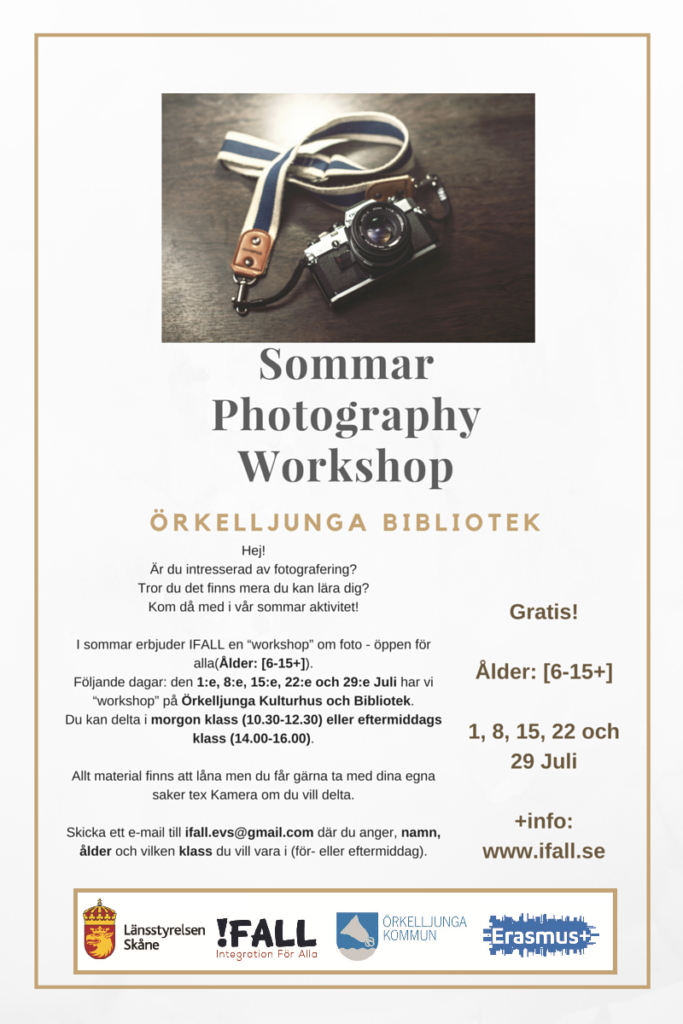 __________________________________________
Do you have an interest in photography?
Do you feel like there is something more you can learn?
Then join our summer activity!
This summer Ifall is providing a workshop in photography open for all!
On the 1st, 8th, 15th, 22nd, 29th of July, the Workshop will take place in Örkelljunga Kulturhus & Bibliotek!
You can either join the morning class(starting at 10h30 and finishing at 12h30)
or the afternoon class(starting at 14h00 and finishing at 16h00).
All digital cameras and material are provided, but feel free to bring your own material if you wish to.
If you want to join us just send an e-mail to ifall.evs@gmail.com indicating your name, age and which class you prefer!