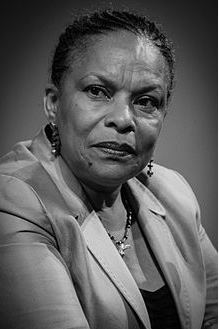 14 Mar

Christiane Taubira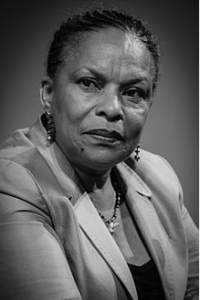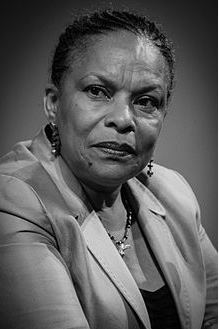 Christiane Taubira , born 2 February 1952, Cayenne, French Guiana) is a French politician who on 15 May 2012, was appointed Minister of Justice of France in the Ayrault Government under President François Hollande. She resigned from office on 27 January 2016
Ms Taubira was the driving force behind a 21 May 2001 law that recognises the Atlantic slave trade and slavery as a crime against humanity. In 2013, she voiced her support for land reforms in France's Caribbean territories as compensation for slavery.
As Minister of Justice, Ms Taubira formally introduced the electoral promise of François Hollande.[7] It became Law 2013-404, which legalised same-sex marriage in France.
This is what she has recently written:
> "Le féminisme est un humanisme, ce n'est pas une guerre de tranchées. Etre
> impitoyable envers un comportement sexiste n'est pas faire la guerre à
> l'autre sexe. Ce qui se joue ici est un combat sur les valeurs, sur le
> respect des droits et des libertés pour la moitié de la population. Ce
> combat peut être porté par toute personne qui se reconnaît dans ces
> valeurs, et ce quel que soit son genre".
>
> "Le combat féministe peut entraîner avec lui tous les autres combats car
> son essence est la revendication qu'aucune différence de traitement n'est
> acceptable sur la simple base d'une différence physique ou de choix de
> vie. Si nous nous accordons sur cette valeur de base, alors tous les
> autres types de discrimination tomberont. C'est pour avoir compartimenté
> les combats que le mouvement féministe s'est affaibli. Ce qui peut assurer
> l'efficacité des luttes, c'est la possible convergence de celles-ci".
"Feminism is a form of humanism. It is not a trench war. What is at stake is fighting for values and for the rights and freedoms for half of the world population to be respected.
The feminist struggle can take along all the other fights because it claims that nobody should be treated differently because of  a physical difference or a choice of life. This is a basic value that can be shared by all the other struggles".
This refers to intersectional feminism.
Intersectional feminism is much more than the latest feminist buzzword. It is a decades-old term many feminists use to explain how the feminist movement can be more diverse and inclusive.
If feminism is advocating for women's rights and equality between the sexes, intersectional feminism is the understanding of how women's overlapping identities — including race, class, ethnicity, religion and sexual orientation — impact the way they experience oppression and discrimination.
In  this movement, born in the US, the issue of equality goes beyond the mere question of genders and tends to integrate a more inclusive vision which encompasses oppression and discrimination of race, class, gender…. All the identities mentioned above.
This is also a view shared by Ms Taubira.