IFALL har arbetat med projektet "Rebuilding the Lifes in the Land of Hope" sedan september 2016.
I en gemensam ansträngning mellan partnerna Tuzla Halk Eğitimi Merkezi, Institute of Entrepreneurship Development (iED), Activita Association, Terra Vera, IFALL – Integration För Alla, T.C. Tuzla Kaymakamlığı and Cita di Magenta Språkundervisning till migranter och flyktingar har tagits upp under projektets första år. För projektets andra kommande år utvecklas metoder för digital literacy för invandrare och flyktingar och kommer att tillämpas på området.
Sammantaget syftar dessa projekt till att nå människor i 6 länder, både invandrare och flyktingar, lärare och lärare. Det slutgiltiga syftet är att förbättra deras anställbarhet och integration i värdsamhällena genom ett fokuserat och innovativt tillvägagångssätt.
Läs mer om projektet på vår hemsida http://landofhopeproject.eu/
Också, följ vår Facebook-sida på https://www.facebook.com/ProjectLandofHope/
Alla andra frågor kommer i kontakt med IFALL via e-posten info@ifall.se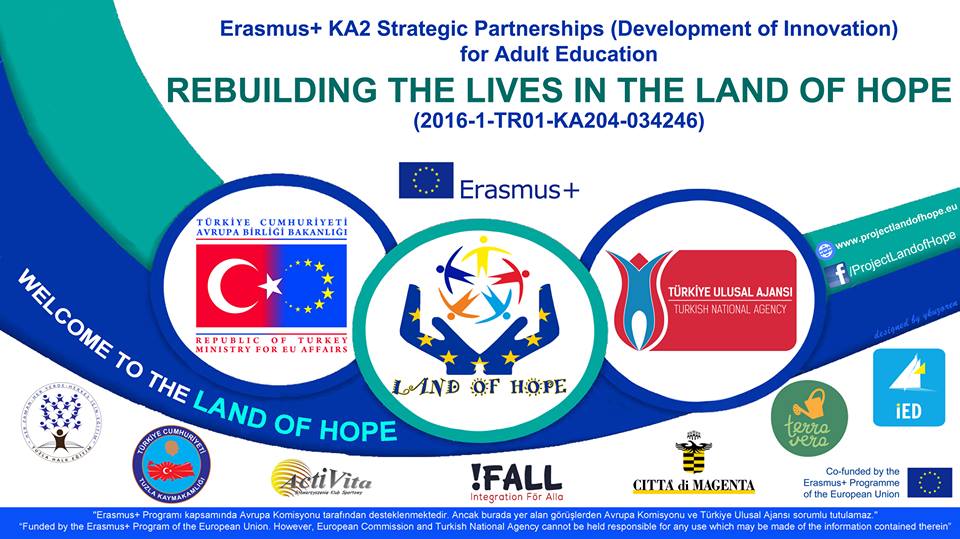 "Rebuilding the Lifes in the Land of Hope" projektuppdatering