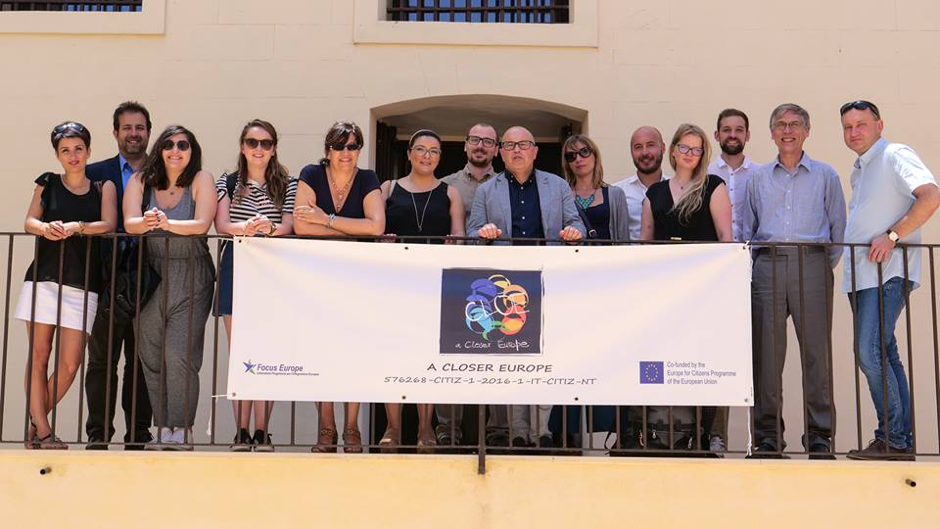 04 Jul

European Citizenship and Participation to Fight Euroscepticism, Mazza del Vallo (Italy) 26th – 28TH June 2017.

The idea of going on my own to an event to Italy for two nights sounded very interesting and exciting. Two days of travelling from Sweden to Sicily in the south of Italy and then a day full of discussing and listening to presentation about the topic. We were staying in the beautiful town of Mazza del Vallo, a town full of characteristics and arts.The topic for this event was 'EuropeanCitizenship and Participation to Fight Euroscepticism, there are 10 participating organizations from various countries and around Italy. Mittetulundushing Peipsi Koostoo Keskus from Estonia, Szczecinska Skola Wyzsza Collegium Balticum from Poland, United Societies of Balkans from Greece, and Gemeinde Wiensheim from Germany. The Italian organisations were Focus Europe, Comune di Mazara del Vallo, Associazione Rete Near Rete Nazionale Contro ogni Forma di Discriminazione and Unione Montana dei Comuni delle Valli Chisione e Germanasca.

[metaslider id=2926]

Europsceptism is a subject that is increasing among European citizens following the economic crisis and refugee crisis.  Recently we have seen a rise in Anti-European political parties, and are gaining popularity in recent years. A country who has seen the effect of a successful Eurosceptic political party is UKIP during the leave campaign in the British referendum on EU membership in June 2016, which resulted in Brexit.

As a young person living in the UK the conference was very interesting to understand and be aware of why other countries are developing anti-European ideas. The fact that many countries would like to follow the steps of Brexit is very worrying. Each country had the chance to share information about why Euroscepticism is becoming popular in their countries, many political parties want to leave the EU is because of the economic crisis and the situation of the Euro.

When looking at why Swedish Democrats are becoming increasingly popular in Sweden because they are hoping for Swexit very soon. A worrying idea for Sweden, knowing that the political party has a history of fascism and racist views. They want to reduce immigration by 90% and to stop multi culturalism and they want to make sure Sweden keeps their traditions.

We had the chance of discussing how we could stop and reduce Euroscepticism in these countries. As a young person who went through Brexit, I strongly believe that there is a need for more information. There is a lack of information on what the European Union does today, there is enough information about why the European Union started. In education in the UK I never received any lessons in school about the benefit I could have by being in the EU. I never knew until this year that it was so easy to be able to study and work within all the different countries within the EU and receive financial support from Erasmus. It is very worrying to think that in two years I will have left university and I would love the chance to be able to travel and work around Europe gaining various experiences, but it is very worrying to think that the UK will have left the EU by then, and I am scared how difficult it will be for me to be able to work around the EU.

I strongly believe that if different countries will be seeing a EU referendum a way of decreasing Euroscepticism is giving the young people the information about the European Union, through education is schools and non-formal activities through quizzes and games. It is very important that young people understand the importance of the EU and that they vote. If young people in the UK understood more about the EU referendum and knew the importance of voting I believe that the UK might still be a member of the European Union.