04 Sep

First Days in Sweden…

Hej,

Here is a post from our 3 new volunteers. One from France, Spain and England . Find out abut our new volunteers by reading below!

I'm Malika. I'm coming from France and I'll spend 10 months in Örkerlljunga as an EVS (European Voluntary Service). This is my first time in Sweden and so far I really like it! I love nature, travelling and discovering new cultures. I've been previously volunteering and working with minorities, Asylum Seekers and Refugees in Slovenia. I participated in international projects about intercultural dialogue, global education, African Diaspora… Waiting to meet you all!

I'm Laura. I'm coming from Spain and, like Malika, I'll spend here 10 months because I'm an EVS volunteer too. This is my first time in Sweden and I haven't seen a lot of things in the village but the little I have seen is so beautiful. I have been volunteer in Spain in an ONG but not like this so I'm excited to be part of this project. Looking forward to know more about you.

I'm Charlotte from the UK. This is my fourth time in Sweden and I am completing my internship with IFALL for 6 months. I am a student at Leeds Beckett University and am studying Youth Work and Community Development. I have volunteered previously with asylum seekers and refugees with a UK NGO 'The Children's Society' and worked with children and young people with special needs as well as volunteering in the South of India. I am excited to stay in Sweden for a longer time!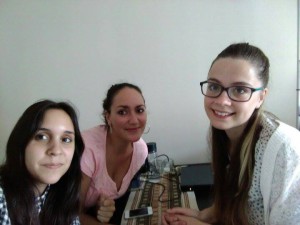 (Left to right; Laura, Malika and Charlotte)
Thanks for reading!